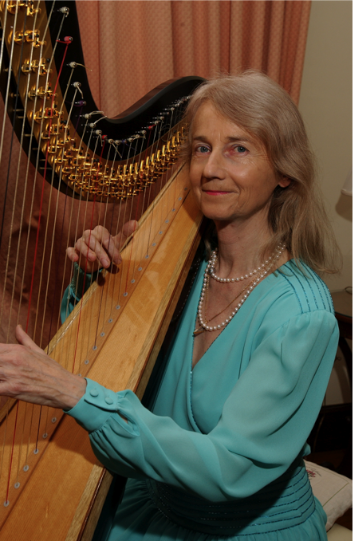 Ursula Holliger
has performed as a soloist worldwide: individually, in small groups, and with many of the world's best known orchestras and conductors. She plays both the classical and the baroque harp. Some of her interpretations have become performance benchmarks: one can single out her several recordings of the Mozart
Concerto for Flute and Harp
, as well as her interpretation of the Handel
Harp Concerto
with Trevor Pinnock. Her recordings of works for violin and harp by the eighteenth century composer Louis Spohr and her marvellous registering of the
Second Concertante for Harp, Violin and Orchestra
with the English Chamber Orchestra led by
Heinz Holliger
have become legend. In addition, her nuanced recordings of the French masterworks for harp by Debussy, Caplet, and Ravel have been recognized as classic.


Ursula Holliger has also served as an important advocate for contemporary harp compositions, by recording many modern works and by performing them widely. Numerous composers have recognized her virtuosity and interpretative talent by dedicating works to her or composing for her, including Sir Harrison Birtwistle, Elliott Carter, Hans Werner Henze, Heinz Holliger, Ernst Krenek, Witold Lutoslawski, Frank Martin, Toru Takemitsu and Isang Yun.

In 2005, Ursula Holliger assisted
Elliott Carter
, perhaps the greatest living American composer, in preparing the final edition of
Mosaic
, a concerto for the harp. After performing the European permière of
Mosaic
in Switzerland, Ursula recorded it with the Swiss Chamber Soloists on the 2008 CD "Happy Birthday, Elliott Carter!," to celebrate Carter's 100
th
birthday. She played
Mosaic
the following April at a concert for Mr. Carter in New York City.


Ursula Holliger participates regularly in the Ittingen, Lucerne and Sermoneta festivals. In 2004, Ursula and Heinz Holliger premièred Harrison Birtwistle's
26 Orpheus Elegies for Oboe and Harp with Countertenor
in the Lucerne Festival. She performed Birtwistle's solo work
Crowd
in Lucerne in 2006. In May 2011, Ursula will perform Frank Martin's
Three Dances for Oboe, Harp, String Quintet, and String Orchestra
with the St. Paul Chamber Orchestra, conducted by Thomas Zehetmair.


Ursula Holliger has performed in recent years in duos with soprano Sylvia Nopper, tenors Philip Langridge and Hans-Jürg Rickenbacher, flutists Kioshi Kaysai and Peter-Lukas Graf, oboist Heinz Holliger, and with violinist Hanna Weinmeister.


Ursula Holliger taught at the
Musikhochschule
in Freiburg, Germany and at the Musik-Akademie in her native Basel, where she resides. Presently, she is a Regular Guest Teacher at the
Boston Conservatory
. For many years she has taught in the
summer courses
organized in Sermoneta, Italy. Her masterclasses throughout the world have served as inspiration to younger harpists. She often serves as a judge in international harp competitions.


Ursula Holliger studied at the Musik-Akademie der Stadt Basel and at the Conservatoire Royal de Musique de Bruxelles with
Mireille Flour
(a student of
M. Tournier
).

Since early childhood Ursula Holliger has and continues to play in benefit concerts, both for churches and for hospitals. She remains active in the work of certain hospitals in Switzerland and Germany. She has great admiration for
Dr. Albert Schweitzer
, and she serves as a founding member of an organization to continue his spiritual work.